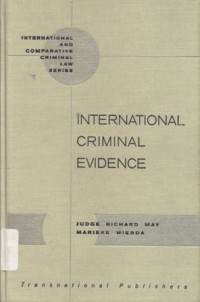 Book
International Criminal Evidence
---
This book provides practitioners, scholars and students with an in-depth analysis of the law of evidence before international criminal tribunals. It treats subjects such as admissibility; hearsay; identification evidence; forensic and documentary evidence. It also discusses procedural issues arising from fair trial rights, state cooperation, witness protection, and the compulsive powers of the court.
The main focus of this work is the practice of the United Nations ad hoc International Criminal Tribunals for the former Yugoslavia and Rwanda. However, it traces the developments of the law of evidence back to the trials conducted by the Allied powers after the Second World War.

The authors also discuss the future of the law in this field, with comments on the projected implementation of the Statute and the Rules of Procedure of the permanent International Criminal Court. They conclude with some general remarks on trends in international criminal evidence that will be helpful to international tribunals, "mixed" tribunals (such as those proposed for Sierra Leone and Cambodia), and national courts alike.
---
Ketersediaan
| | | | |
| --- | --- | --- | --- |
| 003400 | INT VII.50 May/2002 | (1) | Tersedia |
Informasi Detil
Judul Seri

-

No. Panggil

INT VII.50

Penerbit

Transnational Publishers

: .,

2002

Deskripsi Fisik

xxiv, 369 p.; 22 x 16 cm.

Bahasa

Indonesia

ISBN/ISSN

1-57105-144-9

Klasifikasi

INT VII.50

Tipe Isi

-
| | |
| --- | --- |
| Tipe Media | - |
| Tipe Pembawa | - |
| Edisi | - |
| Subyek | |
| Info Detil Spesifik | - |
| Pernyataan Tanggungjawab | - |
Versi lain/terkait
Tidak tersedia versi lain