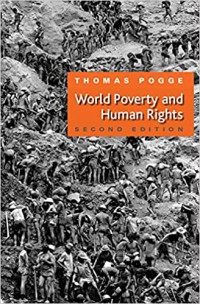 Book
World Poverty and Human Rights
---
Some 2.5 billion human beings live in severe poverty, deprived of such essentials as adequate nutrition, safe drinking water, basic sanitation, adequate shelter, literacy, and basic health care. One third of all human deaths are from poverty-related causes: 18 million annually, including over 10 million children under five.

However huge in human terms, the world poverty problem is tiny economically. Just 1 percent of the national incomes of the high-income countries would suffice to end severe poverty worldwide. Yet, these countries, unwilling to bear an opportunity cost of this magnitude, continue to impose a grievously unjust global institutional order that foreseeably and avoidably perpetuates the catastrophe. Most citizens of affluent countries believe that we are doing nothing wrong.

Thomas Pogge seeks to explain how this belief is sustained. He analyses how our moral and economic theorizing and our global economic order have adapted to make us appear disconnected from massive poverty abroad. Dispelling the illusion, he also offers a modest, widely sharable standard of global economic justice and makes detailed, realistic proposals toward fulfilling it.

Thoroughly updated, the second edition of this classic book incorporates responses to critics and a new chapter introducing Pogge's current work on pharmaceutical patent reform.
---
Ketersediaan
| | | | |
| --- | --- | --- | --- |
| 7052 | INT V.100 Pogge/2010 | Perpustakaan Komnas HAM (INT) | Tersedia |
Informasi Detil
Judul Seri

-

No. Panggil

INT V.100 Pogge/2010

Penerbit

Polity Press

:

Cambridge

.,

2010

Deskripsi Fisik

viii, 352 pages; 23 x 16 cm.

Bahasa

English

ISBN/ISSN

978-0745641447

Klasifikasi

INT V.100

Tipe Isi

text
| | |
| --- | --- |
| Tipe Media | unmediated |
| Tipe Pembawa | volume |
| Edisi | Second Edition |
| Subyek | |
| Info Detil Spesifik | - |
| Pernyataan Tanggungjawab | - |
Versi lain/terkait
Tidak tersedia versi lain