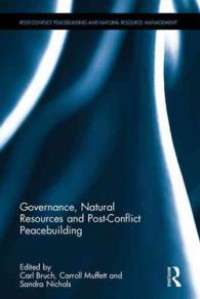 Book
Governance, Natural Resources and Post-Conflict Peacebuilding
---
When the guns are silenced, those who have survived armed conflict need food, water, shelter, the means to earn a living, and the promise of safety and a return to civil order. Meeting these needs while sustaining peace requires more than simply having governmental structures in place; it requires good governance.

Natural resources are essential to sustaining people and peace in post-conflict countries, but governance failures often jeopardize such efforts. This book examines the theory, practice, and often surprising realities of post-conflict governance, natural resource management, and peacebuilding in fifty conflict-affected countries and territories. It includes thirty-nine chapters written by more than seventy researchers, diplomats, military personnel, and practitioners from governmental, intergovernmental, and nongovernmental organizations.

The book highlights the mutually reinforcing relationship between natural resource management and good governance. Natural resource management is crucial to rebuilding governance and the rule of law, combating corruption, improving transparency and accountability, engaging disenfranchised populations, and building confidence after conflict. At the same time, good governance is essential for ensuring that natural resource management can meet immediate needs for post-conflict stability and development, while simultaneously laying the foundation for a sustainable peace. Drawing on analyses of the close relationship between governance and natural resource management, the book explores lessons from past conflicts and ongoing reconstruction efforts; illustrates how those lessons may be applied to the formulation and implementation of more effective governance initiatives; and presents an emerging theoretical and practical framework for policy makers, researchers, practitioners, and students.

Governance, Natural Resources, and Post-Conflict Peacebuilding is part of a global initiative to identify and analyze lessons in post-conflict peacebuilding and natural resource management. The project has generated six books of case studies and analyses, with contributions from practitioners, policy makers, and researchers. Other books in this series address high-value resources, land, water, livelihoods, and assessing and restoring natural resources.
---
Ketersediaan
| | | | |
| --- | --- | --- | --- |
| 9606 | INT IX Gov/2016 | Perpustakaan Komnas HAM | Tersedia |
Informasi Detil
Judul Seri

Post-Conflict Peacebuilding and Natural Resource Management

No. Panggil

INT IX Gov/2016

Penerbit

Routledge Taylor & Francis Group

:

New York

.,

2016

Deskripsi Fisik

xviii, 1140 pages; 24 x 16 cm.

Bahasa

English

ISBN/ISSN

9781138680968

Klasifikasi

INT IX

Tipe Isi

text
| | |
| --- | --- |
| Tipe Media | unmediated |
| Tipe Pembawa | volume |
| Edisi | - |
| Subyek | |
| Info Detil Spesifik | - |
| Pernyataan Tanggungjawab | - |
Versi lain/terkait
Tidak tersedia versi lain