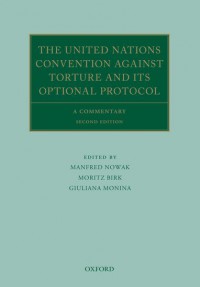 Book
The United Nations Convention Against Torture and its Optional Protocol: A Commentary
---
The prohibition of torture - the right to physical and mental integrity - is guaranteed in the strongest terms under international law. It is protected as an absolute right, non-derogable even in times of war or public emergency under many human rights treaties and is also generally accepted as a part of customary international law and even ius cogens. The main instrument to combat torture within the framework of the United Nations is the Convention Against Torture and other Cruel, Inhuman, or Degrading Treatment or Punishment (CAT).

This Commentary explores the problematic definition of torture in the Convention, the substantive obligations of States parties, the principle of 'non-refoulement', provisions for international monitoring, and also the concept of preventative visits to all places of detention as contained in the Optional Protocol to the CAT. It also covers issues including the distinction between torture and cruel inhuman or degrading treatment and the principle of non-admissibility of evidence extracted under torture. Full article by article commentary on the Convention also provides historical context and thorough analysis of case-law and practice from international and regional courts and monitoring bodies. Relevant case-law from domestic courts are also discussed.

Despite the broad ratification and the universal recognition of the prohibition of torture and other forms of ill-treatment we witness a 'global crisis' affecting the majority of countries worldwide. In recent years the protection of human rights is experiencing a particularly serious crisis - also affecting the phenomenon of torture - in which official narratives and public belief often trivialise and even endorse such practices in the name of security and the fight against terrorism, ignoring the suffering and damages it causes. On the other hand, the positive experiences in some States illustrate that torture can be eradicated if the provisions of CAT and OPCAT are taken seriously and are being fully implemented.
---
Ketersediaan
| | | | |
| --- | --- | --- | --- |
| 9515 | INT IV.121.01 Uni/2019 | Perpustakaan Komnas HAM | Sedang Dipinjam (Jatuh tempo pada2022-06-21) |
Informasi Detil
Judul Seri

-

No. Panggil

INT IV.121.01 Uni/2019

Penerbit

Oxford University Press

:

Oxford, United Kingdom

.,

2019

Deskripsi Fisik

li, 1306 pages; 28 x 21 cm.

Bahasa

English

ISBN/ISSN

9780198846178

Klasifikasi

INT IV.121.01

Tipe Isi

text
| | |
| --- | --- |
| Tipe Media | unmediated |
| Tipe Pembawa | volume |
| Edisi | Second Edition |
| Subyek | |
| Info Detil Spesifik | - |
| Pernyataan Tanggungjawab | - |
Versi lain/terkait
Tidak tersedia versi lain