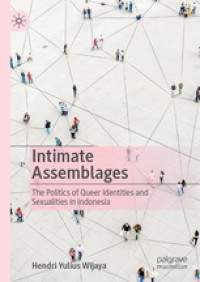 Book
Intimate Assemblages: The Politics of Queer Identities and Sexualities in Indonesia
---
Written in the aftermath of Indonesia's anti-queer panic in 2016, this book tells the story of local queer movements in challenging the heteronormative society and resisting the homophobic hostility from religious conservative groups and the state. The year 2016 was a touchstone moment for queer issues in Indonesia, marked by the ubiquity of anti-queer campaigns, along with the pervasive use of the term 'LGBT' in public. Drawing on historical archives and his engagements with local queer activisms, Hendri Yulius Wijaya traces the historical shifts of gender and sexual identities in Indonesia, from gay and lesbian, to LGBT, to SOGIE minorities, while exploring their connections with the country's socio-political circumstances and the globalization of queer rights.

Using a strategic blend of queer theory and assemblage framework, Wijaya demonstrates how activists refashion transnational sexuality discourses to balance international developments of queer rights against the contingencies of daily life in Indonesia. Equally importantly, he sheds light on emerging practices in activist landscapes, including the emergence of sexuality experts and the professionalization of activisms. In analyzing the rising tide of homophobic paranoia, Wijaya further shows how the current anti-queer campaigns have branched out into a broader assault on feminism and promoted a form of 'aversion therapy' that positions same-sex attraction as a divine ordeal.

Intimate Assemblages follows the travails of queer activists in defining what it means to be queer in contemporary Indonesia.
---
Ketersediaan
| | | | |
| --- | --- | --- | --- |
| 9318 | INA VII.70 Wij/2020 | Perpustakaan Komnas HAM | Tersedia |
Informasi Detil
Judul Seri

-

No. Panggil

INA VII.70 Wij/2020

Penerbit

Palgrave Macmillan

:

Singapore

.,

2020

Deskripsi Fisik

xiii, 243 pages; 22 x 16 cm.

Bahasa

English

ISBN/ISSN

9789811528774

Klasifikasi

INA VII.70

Tipe Isi

text
| | |
| --- | --- |
| Tipe Media | unmediated |
| Tipe Pembawa | volume |
| Edisi | - |
| Subyek | |
| Info Detil Spesifik | - |
| Pernyataan Tanggungjawab | Hendri Yulius Wijaya |
Versi lain/terkait
Tidak tersedia versi lain