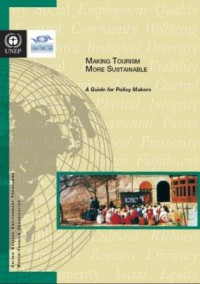 Electronic Resource
Making Tourism more Sustainable: A Guide for Policy Makers
---
International tourist arrivals have almost quadrupled over the past 30 years and domestic tourism has also intensified in most developed and newly industrialized countries. At the same time, tourist movements have spread geographically to reach practically all countries of the globe, becoming for many of them an important economic sector in terms of income generation, foreign exchange earnings and employment creation.

Awareness about sustainability issues—which referred originally to the natural environment but now also covers the social, economic and cultural spheres as well as the built environment—also developed significantly over those 30 years. Today,
most governments, international development agencies, trade associations, academic institutions and non-governmental organizations acknowledge that, without sustainability, there cannot be development that generates benefits to all stakeholders, solves serious and urgent problems such as extreme poverty, and preserves the precious natural and man-made resources on which human prosperity is based.

The tourism sector could not remain indifferent to the sustainability challenge of our times. This is why the World Tourism Organization (WTO) focuses its advisory and technical assistance services on policies, development guidelines, management techniques and measurement instruments that allow national and local governments, as well as the tourism industry, to incorporate sustainability principles into their decision making process and day-to-day operations. This is why the United
Nations Environment Programme (UNEP) has initiated a programme that aims at integrating environmental sustainability into decision making in the tourism industry and into consumers' purchasing choices, by disseminating technical know-how and building business networks to catalyse 'sustainability' in the tourism sector.
---
Ketersediaan
| | | | |
| --- | --- | --- | --- |
| E00028 | INT V.92 | Perpustakaan Komnas HAM | Tersedia |
Informasi Detil
Judul Seri

-

No. Panggil

INT V.92

Penerbit

United Nations Environment Programme (UNEP)

:

Paris

.,

2005

Deskripsi Fisik

210 pages; 3 MB.

Bahasa

English

ISBN/ISSN

9280725076

Klasifikasi

INT V.92

Tipe Isi

text
| | |
| --- | --- |
| Tipe Media | computer |
| Tipe Pembawa | volume |
| Edisi | - |
| Subyek | |
| Info Detil Spesifik | E-book / PDF |
| Pernyataan Tanggungjawab | UNEP and WTO |
Versi lain/terkait
Tidak tersedia versi lain