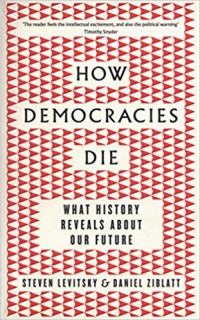 Book
How Democracies Die: What History Reveals about Our Future
---
Democracies can die with coup d'etat - or can die slowly. This happens most deceptively when in piecemeal fashion, with the election of an authoritarian leader, the abuse of governmental power and the complete repression of opposition. All three steps are being taken around the world - not least with the election of Donald Trump - and we must all understand how we can stop them.

In this book, Harvard professors Steven Levitsky and Daniel Ziblatt draw insightful lessons from across history to shine a light on regime breakdown across the twentieth and twenty-first centuries. They present an alarming analysis of how democracies is being subverted today and a guide for maintaining and repairing a threatened democracy, for governments, political parties and individuals.

History doesn't repeat itself. But can we protect our democracy by learning its lessons, before it's too late.
---
Ketersediaan
| | | | |
| --- | --- | --- | --- |
| 8787 | GEN II.41 Levitsky/2018 | Perpustakaan Komnas HAM | Tersedia |
Informasi Detil
Judul Seri

-

No. Panggil

GEN II.41 Levitsky/2018

Penerbit

Viking

:

New York

.,

2018

Deskripsi Fisik

312 pages; 22 x 14 cm.

Bahasa

English

ISBN/ISSN

9780241336496

Klasifikasi

GEN II.41

Tipe Isi

text
| | |
| --- | --- |
| Tipe Media | unmediated |
| Tipe Pembawa | volume |
| Edisi | - |
| Subyek | |
| Info Detil Spesifik | - |
| Pernyataan Tanggungjawab | Steven Levitsky & Daniel Ziblatt |
Versi lain/terkait
Tidak tersedia versi lain