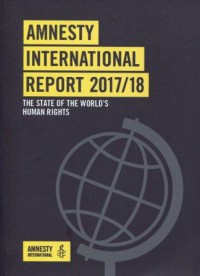 Book
Amnesty International Report 2017/18: The State of the World's Human Rights
---
The Amnesty International Report 2017/18 documents the state of the world's human rights in 159 countries and territories during 2017. It represents Amnesty International's concerns and calls for action and is essential reading for policy makers, activists and anyone with an interest in human rights.

During 2017, conflict, austerity measures and natural disasters pushed many into deeper poverty and insecurity; millions were forced to flee their homes and seek refuge elsewhere in their own countries or across international borders. Discrimination remained rife in all regions of the world, and at times had deadly consequences for the victims. Governments of all persuasions continued to crack down on the rights to freedom of expression, association and assembly, including by threatening and attacking journalists, human rights defenders and environmental activists.

Yet, in all regions, human courage and determination shone through, with millions taking a stand against injustice and demanding that their voices be heard and their rights realized. These individuals helped to ensure justice for past crime and were a daily reminder to the authorities that they will be held to account for their actions. While there remained much to be done, progress in areas such as the rights of lesbian, gay, bisexual, transgender and intersex people demonstrates what we can achieve when we speak up for human rights.
---
Ketersediaan
| | | | |
| --- | --- | --- | --- |
| 8746 | GEN IV Amnesty/2018 | Perpustakaan Komnas HAM (GEN) | Tersedia |
Informasi Detil
Judul Seri

-

No. Panggil

GEN IV Amnesty/2018

Penerbit

Amnesty International

:

London

.,

2018

Deskripsi Fisik

ix, 408 pages; 25 x 18 cm.

Bahasa

English

ISBN/ISSN

9780862104993

Klasifikasi

GEN IV

Tipe Isi

text
| | |
| --- | --- |
| Tipe Media | unmediated |
| Tipe Pembawa | volume |
| Edisi | - |
| Subyek | |
| Info Detil Spesifik | - |
| Pernyataan Tanggungjawab | Amnesty International |
Versi lain/terkait
Tidak tersedia versi lain