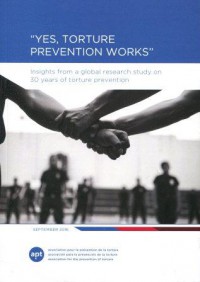 Book
"Yes, Torture Prevention Works": Insights from a Global Research Study on 30 Years of Torture Prevention
---
Over the past 30 years, a number of important steps have been taken to prevent torture and other ill-treatment around the world. There has been, however, very little research into the effectiveness of these efforts.
In 2012, the Association for the Prevention of Torture (APT) therefore commissioned an independent, in-depth research to address the question: "Does Torture Prevention Work?" For the first time, a team of researchers, under the lead of Dr. Richard Carver and Dr. Lisa Handley, studied the impact of torture prevention measures, over three decades. The results were published in 2016 and include 14 country studies.
The research confirms, for the first time in a global quantitative and qualitative study, that torture prevention works and it provides us with a better understanding of which measures are the most effective in reducing the risks of torture.
In this briefing paper, the APT extracts the key findings from study and provides further insights in the need for a holistic approach to torture prevention.
---
Ketersediaan
| | | | |
| --- | --- | --- | --- |
| 8728 | INT IV.121 Yes/2016 | Perpustakaan Komnas HAM | Tersedia |
| 8727 | INT IV.121 Yes/2016 | Perpustakaan Komnas HAM | Tersedia |
Informasi Detil
Judul Seri

-

No. Panggil

INT IV.121 Yes/2016

Penerbit

Association for the Prevention of Torture (APT)

:

Geneva

.,

2016

Deskripsi Fisik

i, 38 pages; 21 x 15 cm.

Bahasa

English

ISBN/ISSN

9782940337996

Klasifikasi

INT IV.121

Tipe Isi

text
| | |
| --- | --- |
| Tipe Media | unmediated |
| Tipe Pembawa | volume |
| Edisi | - |
| Subyek | |
| Info Detil Spesifik | - |
| Pernyataan Tanggungjawab | Association for The Prevention Of Torture (APT) |
Versi lain/terkait
Tidak tersedia versi lain