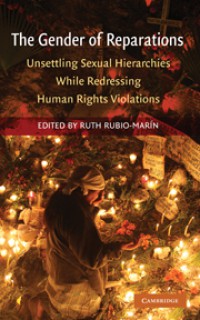 Book
The Gender of Reparations: Unsettling Sexual Hierarchies While Redressing Human Rights Violations
---
Reparation programs seeking to provide for victims of gross and systematic human rights violations are becoming an increasingly frequent feature of transitional and post-conflict processes. Given that women represent a very large proportion of the victims of these conflicts and authoritarianism, it makes sense to examine whether reparation programs can be designed to redress women more fairly and efficiently and seek to subvert gender hierarchies that often antecede the conflict. Focusing on themes such as reparations for victims of sexual and reproductive violence, reparations for children and other family members, as well as gendered understandings of monetary, symbolic, and collective reparations, this text gathers information about how past or existing reparation projects dealt with gender issues, identifies best practices to the extent possible, and articulates innovative approaches and guidelines to the integration of a gender perspective in the design and implementation of reparations for victims of human rights violations.

Table of Contents

Introduction: a gender and reparations taxonomy Ruth Rubio-Marín
1. Gender and violence in focus: a background for gender justice in reparations Margaret Urban Walker
2. The gender of reparations in transitional societies Ruth Rubio-Marín
3. Reparation of sexual and reproductive violence: moving from codification to implementation Colleen Duggan and Ruth Jacobson
4. Reparations as a means for recognizing and addressing crimes and grave rights violations against girls and boys during situations of armed conflict and under authoritarian and dictatorial regimes Dyan Mazurana and Khristopher Carlson
5. Repairing family members: gross human rights violations and communities of harm Ruth Rubio-Marín, Clara Sandoval, and Catalina Díaz
6. Tort theory, microfinance, and gender equity convergent in pecuniary reparations Anita Bernstein
7. Gender, memorialization, and symbolic reparations Brandon Hamber and Ingrid Palmary
8. Gender and collective reparations in the aftermath of conflict and political repression Ruth Rubio-Marín.
---
Ketersediaan
Tidak ada salinan data
Informasi Detil
Judul Seri

-

No. Panggil

INT XII Gender/2009

Penerbit

Cambridge University Press

:

Cambridge

.,

2009

Deskripsi Fisik

xv, 416 pages; 24 x 16 cm.

Bahasa

English

ISBN/ISSN

9780521517928

Klasifikasi

INT XII

Tipe Isi

text
| | |
| --- | --- |
| Tipe Media | unmediated |
| Tipe Pembawa | volume |
| Edisi | - |
| Subyek | |
| Info Detil Spesifik | - |
| Pernyataan Tanggungjawab | Cambridge University Press |
Versi lain/terkait
Tidak tersedia versi lain