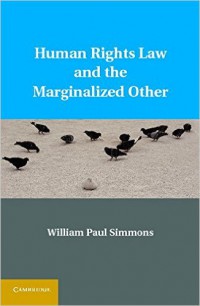 Book
Human Rights Law and the Marginalized Other
---
This is a groundbreaking application of contemporary philosophy to human rights law that proposes several significant innovations for the progressive development of human rights. Drawing on the works of prominent "philosophers of the Other" including Emmanuel Levinas, Gayatri Chakravorti Spivak, Judith Butler, and most centrally the Argentine philosopher of liberation Enrique Dussel, this book develops an ethics based on concrete face-to-face relationships with the Marginalized Other. It proposes that this ethics should inspire a human rights law that is grounded in transcendental justice and framed from the perspective of marginalized groups. Such law would continuously deconstruct the original violence found in all human rights treaties and tribunals and promote preferential treatment for the marginalized. It would be especially attentive to such issues as access to justice, voice, representation, agency, and responsibility. This approach differs markedly from more conventional theories of human rights that prioritize the autonomy of the ego, state sovereignty, democracy, and/or equality.

Contents:
Part I. A Deconstruction of Human Rights Law:
1. Arendt, Little Rock, and the cauterization of the other
2. Democracy, human rights, and L'Affaire du Foulard
Part II. A Phenomenology of the Saturated Other:
3. Derrida, Levinas, and the rights of the other
4. The saturated other

Part III. A Human Rights of the Marginalized Other:
5. Learning to learn from the voice of the other
6. Self-ascription by the marginalized other in asylum law
7. Heteronomic rights and duties.
---
Ketersediaan
| | | | |
| --- | --- | --- | --- |
| 8084 | GEN II Simmons/2014 | Perpustakaan Komnas HAM (GEN) | Tersedia |
Informasi Detil
Judul Seri

-

No. Panggil

GEN II Simmons/2014

Penerbit

Cambridge University Press

:

New York

.,

2014

Deskripsi Fisik

xvi, 251 pages ; 24 x 16 cm.

Bahasa

English

ISBN/ISSN

978-1-107-67153-9

Klasifikasi

GEN II

Tipe Isi

text
| | |
| --- | --- |
| Tipe Media | - |
| Tipe Pembawa | - |
| Edisi | - |
| Subyek | |
| Info Detil Spesifik | - |
| Pernyataan Tanggungjawab | - |
Versi lain/terkait
Tidak tersedia versi lain