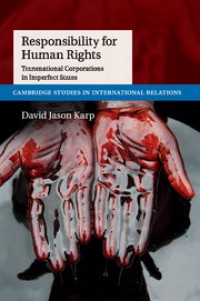 Book
Responsibility for Human Rights: Transnational Corporations in Imperfect States
---
Responsibility for Human Rights provides an original theoretical analysis of which global actors are responsible for human rights, and why. It does this through an evaluation of the different reasons according to which such responsibilities might be assigned: legalism, universalism, capacity and publicness. The book marshals various arguments that speak in favour of and against assigning 'responsibility for human rights' to any state or non-state actor. At the same time, it remains grounded in an incisive interpretation of the world we actually live in today, including: the relationship between sovereignty and human rights, recent events in 'business and human rights' practice, and key empirical examples of human rights violations by companies. David Karp argues that relevantly public actors have specific human rights responsibility. However, states can be less public, and non-state actors can be more public, than might seem apparent at first glance.

Contents:
1. Introduction
2. Transnational corporations and human rights in practice, policy and international law
3. Legitimate authority, human rights and transnational actors
4. Are human rights responsibilities universal? A conceptual framework of responsibility for human rights
5. The capacity approach: a construction and critique
6. The publicness approach to responsibility for human rights
7. Conclusions: non-state actors and human rights practice.
---
Ketersediaan
| | | | |
| --- | --- | --- | --- |
| 7947 | INT V.800 Karp / 2014 | Perpustakaan Komnas HAM | Tersedia |
Informasi Detil
Judul Seri

Cambridge Studies in International Relations: 130

No. Panggil

INT V.800 Karp / 2014

Penerbit

Cambridge University Press

:

Cambridge, United Kingdom

.,

2014

Deskripsi Fisik

ix, 198 pages ; 24 cm.

Bahasa

English

ISBN/ISSN

978-1-107-03788-5

Klasifikasi

INT V.800

Tipe Isi

text
| | |
| --- | --- |
| Tipe Media | - |
| Tipe Pembawa | - |
| Edisi | - |
| Subyek | |
| Info Detil Spesifik | - |
| Pernyataan Tanggungjawab | - |
Versi lain/terkait
Tidak tersedia versi lain