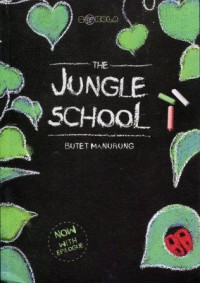 Book
The Jungle School
---
A People in crisis...
A young woman's adventure...
A school for life.

The Orang Rimba (People of the Forest) are nomadic tribes living in the rainforests of Indonesia. Today, outsiders are encroaching upon their tribal grounds. While they have the skills needed to preserve their jungle, the Orang Rimba are ill prepared to deal with land contracts or sale of rainforest products. Butet Manurung shares the journal she kept during her first year in the jungle. She tells of her adventures with stinging bees, prowling bears, and motorbikes. Most touchingly, she describes her transformation from outsider to trusted teacher. Will learning to read and write be enough to help the Orang Rimba save their rainforest?
---
Ketersediaan
| | | | |
| --- | --- | --- | --- |
| 8066 | INA VII.29.04 Manurung/2012 | Perpustakaan Komnas HAM | Tersedia |
Informasi Detil
Judul Seri

-

No. Panggil

INA VII.29.04 Manurung/2012

Penerbit

Sokola Foundation

:

Bekasi

.,

2012

Deskripsi Fisik

xxi, 310 p.; 21 x 15 cm; ill.

Bahasa

English

ISBN/ISSN

978-979-18238-1-4

Klasifikasi

INA VII.29.04

Tipe Isi

-
| | |
| --- | --- |
| Tipe Media | - |
| Tipe Pembawa | - |
| Edisi | - |
| Subyek | |
| Info Detil Spesifik | - |
| Pernyataan Tanggungjawab | - |
Versi lain/terkait