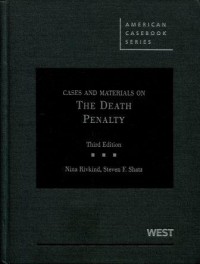 Book
Cases and Materials on The Death Penalty
---
This casebook is a comprehensive and up-to-date treatment of the Supreme Court's death penalty jurisprudence. Part I contains background information about the death penalty and the Court's seminal cases. Part II addresses constitutional challenges to various aspects of death penalty schemes. Part III considers the litigation of a capital case by examining the Court's constitutional decisions regarding the process as a whole and the penalty phase, in particular. Part IV concerns issues arising after the death judgment, including review of the death judgment and the execution itself. Part V reconsiders the death penalty from the perspective of international law and recent critiques and proposals for reform.

Contents:
Part 1. Introduction of the Course
Chapter 1. Introduction
Chapter 2. The Supreme Court's Seminal Cases

Part 2. The Constitution and Death Penalty Schemes
Chapter 3. Limiting the Risk of Arbitrariness
Chapter 4. The Requirement of an Individualized Penalty Determination
Chapter 5. The Requirement of Proportionality

Part 3. Litigating the Capital Case
Chapter 6. Selecting the Jury
Chapter 7. The Defendant and Defense Counsel
Chapter 8. The Prosecutor
Chapter 9. The Penalty Hearing
Chapter 10. Guiding the Sentencer

Part 4. After the Death Judgement
Chapter 11. Federal Habeas Corpus Review of State Death Judgments
Chapter 12. Execution

Part 5. The Death Penalty Reconsidered
Chapter 13. The Death Penalty in the International Context
Chapter 14. A Broken System?
---
Ketersediaan
Tidak ada salinan data
Informasi Detil
Judul Seri

American Casebook Series

No. Panggil

INT IV.101 Rivkind/2009

Penerbit

WEST Thomson Reuters

:

St. Paul

.,

2009

Deskripsi Fisik

xviii, 960 p.; 26 x 20 cm.

Bahasa

English

ISBN/ISSN

978-0-314-19956-0

Klasifikasi

INT IV.101

Tipe Isi

-
| | |
| --- | --- |
| Tipe Media | - |
| Tipe Pembawa | - |
| Edisi | Third Edition |
| Subyek | |
| Info Detil Spesifik | - |
| Pernyataan Tanggungjawab | - |
Versi lain/terkait
Tidak tersedia versi lain