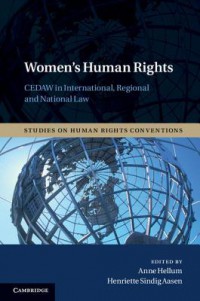 Book
Women's Human Rights: CEDAW in International, Regional and National Law
---
As an instrument which addresses the circumstances which affect women's lives and enjoyment of rights in a diverse world, the CEDAW is slowly but surely making its mark on the development of international and national law. Using national case studies from South Asia, Southern Africa, Australia, Canada and Northern Europe, Women's Human Rights examines the potential and actual added value of the Convention on the Elimination of All Forms of Discrimination against Women in comparison and interaction with other equality and anti-discrimination mechanisms. The studies demonstrate how state and non-state actors have invoked, adopted or resisted the CEDAW and related instruments in different legal, political, economic and socio-cultural contexts, and how the various international, regional and national regimes have drawn inspiration and learned from each other.
1. Situates the CEDAW regime in a legal landscape where states are under multiple international, regional and national obligations to respect, protect and fulfil women's right to equality and non-discrimination
2. Explores how the gender-specific CEDAW regime, in comparison to gender-neutral regimes like the ICCPR and the ICESCR, has influenced social and economic rights
3. Case studies demonstrate the increasing use of the CEDAW as a means to hold national governments accountable, despite an uneven and complex process of legal change

Contents:
Introduction Anne Hellum and Henriette Sinding Aasen
Part I. Potential Added Value of the CEDAW:
1. The Committee on the Elimination of Discrimination of Women Andrew Byrnes
2. The United Nations Working Group on the Issue of Discrimination against Women in Law and Practice Fareda Banda
3. CEDAW: a holistic approach to women's equality and freedom Rikki Holtmaat
4. CEDAW as a legal framework for transnational discourses on gender stereotyping Simone Cusack
5. From CEDAW to the American Convention: elucidation of women's right to a life's project and protection of maternal identity within inter-American human rights jurisprudence Cecilia Bailliet
6. Pulling apart? Treatment of pluralism in CEDAW and in Maputo protocol Celestine Nyamu Musembi
Part II. Actual Added Value of the CEDAW: Socio-Economic Rights:
7. Engendering socio-economic rights Sandra Fredman
8. 'Women's rights are human rights!' The practice of the United Nations Human Rights Committee and the Committee on Economic, Social and Cultural Rights Fleur van Leeuwen
9. Property and security: articulating women's rights to their homes Ingunn Ikdahl
10. Maternal mortality and women's right to health Henriette Sinding Aasen
Part III. The CEDAW in National Law:
11. The implementation of the CEDAW Convention in Australia: success, trials, tribulations and continuing struggle Andrew Byrnes
12. The Canadian experience with the CEDAW: all women's rights are human rights - a case of treaties synergy Lucie Lamarche
13. India's CEDAW story Madhu Mehra
14. Judicial education on the Convention on Elimination of Discrimination against Women in Nepal Kabita Pandey
15. From ratification to implementation: 'domesticating' CEDAW in state, government and society. A case study of Pakistan Shaheen Sardar Ali
16. Zimbabwe and CEDAW compliance: pursuing women's equality in fits and starts Choice Damiso and Julie Stewart
17. The CEDAW after all these years: firmly rooted in the Dutch clay? Marjolein van den Brink
18. CEDAW in the UK Sandra Fredman
19. Domestication of the CEDAW in France: from paradoxes to ambivalences and back again Hélène Ruiz Fabri and Andrea Hamann
20. Rise and fall of the CEDAW in Finland: time to reclaim its impetus Kevät Nousiainen and Merja Pentikäinen
21. Making space and giving voice: CEDAW in Norwegian law Anne Hellum
Conclusions Anne Hellum and Henriette Sinding Aasen.

---
Ketersediaan
| | | | |
| --- | --- | --- | --- |
| 7710 | INT I.20 Women's/2013 | Perpustakaan Komnas HAM | Tersedia |
Informasi Detil
Judul Seri

Studies on Human Rights Conventions ; 3

No. Panggil

INT I.20 Women's / 2013

Penerbit

Cambridge University Press

:

Cambridge, United Kingdom

.,

2013

Deskripsi Fisik

xxii, 675 p. ; 24 cm.

Bahasa

English

ISBN/ISSN

978-1-107-03462-4

Klasifikasi

INT I.20

Tipe Isi

-
| | |
| --- | --- |
| Tipe Media | - |
| Tipe Pembawa | - |
| Edisi | - |
| Subyek | |
| Info Detil Spesifik | - |
| Pernyataan Tanggungjawab | - |
Versi lain/terkait
Tidak tersedia versi lain