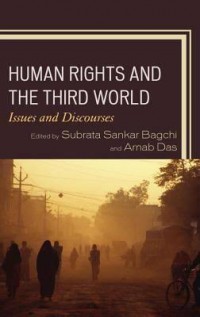 Book
Human Rights and the Third World: Issues and Discourses
---
Human Rights and the Third World: Issues and Discourses deals with the controversial questions on the universalistic notions of human rights. It finds Third World perspectives on human rights and seeks to open up a discursive space in the human rights discourse to address unresolved questions, citing issues and problems from different countries in the Third World: Whether alternative perspectives should be taken as the standard for human rights in the Third World countries? Should there be a universalistic notion of rights for Homo sapiens or are we talking about two diametrically opposite trends and standards of human rights for the same species? How far these Third World perspectives of human rights can ensure the protection of the minorities and the vulnerable sections of population, particularly the women and children within the Third World? Can these alternative perspectives help in fighting the Third World problems like poverty, hunger, corruption, despotism, social exclusion like the caste system in India, communalism, and the like? Can there be reconciliation between the Third World perspectives and the Western perspective of human rights

Contents:
Part I Global Human Rights Standard and the Third World
1. Universal claim and postcolonial realities : the deep unease over western-centered human rights standards in the global South / Marie-Luisa Frick
2. Progressive realization of the right to development in India / Clarence J. Dias
3. Development and environmental issues vis-à-vis current perspectives of human rights / Aniruddha Mukhopadhyay and Sayan Bhattacharya
4. Human rights and corruption : the case of political corruption and opposition to human rights in Indonesia / Agus Wahyudi
Part II Politics of Human Rights from Third World Perspectives
5. Human rights and indigenous self-government : the Taiwanese experience / Scott Simon and Awi Mona (Chih-Wei Tsai)
6. Colonial continuities, neoliberal-hegemony and adivasi (original dweller) space : human rights as paradox and equivocation in contexts of dispossession in India / Dip Kapoor
7. Hindutva politics : impact on human rights / Ram Puniyani
Part III Rights of the Marginalized
8. Human rights violations in India : exploring the societal roots of marginality / Debi Chatterjee
9. Media, cultural rights and the Third World / Pranta Pratik Patnaik
10. The fault lines in Soviet-style accommodation of minority rights in Ethiopia / Semahagn Gashu
11. Human rights and the Third World other / Subrata Sankar Bagchi
Part IV Rights for Children and Genders
12. Culture and issues of rights to the eyes of the Indians with "other" self-identities of sexuality and gender / Arnab Das and Pawan Dhall
13. Roots and shoots of female feticide in pockets of India : lending voice to the voiceless / Tushar Kanti Saha
Part V Rights of the Disabled and Health
14. The rights of people living with disability in the Third World context : the Zimbabwean pentecostal concept of "curses and blessings" in the light of disability / Francis Machingura
15. The Indian disability rights paradigm : the reality versus rhetoric / Anuradha Saibaba Rajesh
16. "People's health in people's hand" : story of a voluntary organization in rural West Bengal / Satyabrata Chakrborty
Part VI Expanding Frontiers of Human Rights
17. Human rights and information society : problematizing India / Dipankar Sinha
18. Biotechnology and human rights / Subhasis Mukhopadhyay.
---
Ketersediaan
Tidak ada salinan data
Informasi Detil
Judul Seri

-

No. Panggil

GEN I Human / 2013

Penerbit

Lexington Books

:

Lanham

.,

2013

Deskripsi Fisik

viii, 420 p. ; 24 cm.

Bahasa

English

ISBN/ISSN

978-0-7391-7735-8

Klasifikasi

GEN I

Tipe Isi

-
| | |
| --- | --- |
| Tipe Media | - |
| Tipe Pembawa | - |
| Edisi | - |
| Subyek | |
| Info Detil Spesifik | - |
| Pernyataan Tanggungjawab | - |
Versi lain/terkait
Tidak tersedia versi lain