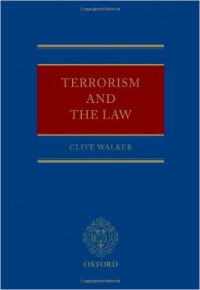 Book
Terrorism and the Law
---
Terrorism laws and legal practices have been politically and socially controversial to a degree beyond almost any other legal issue during the past decade, and this analytical text contains extensive analysis of these controversies. Written by a leading commentator, Terrorism and the Law offers a thoughtful and up-to-date discussion of all the key materials on terrorism law. It provides comprehensive coverage of all major domestic, European, and international laws, and their impact on the UK. It also contains an extensive examination of implementation and practical problems, as well as comparison with closely comparable jurisdictions ranging from Australia, Canada, and the Republic of Ireland, to the United States.
The book contains five Parts. Part I focuses on meanings of 'terrorism' in law and political science. It provides the reader with an understanding of the political phenomenon and the legal concept, including its statutory definitions, which is essential to the book's assessment of the strategies and tactics adopted in the codes of laws as well as policy statements. It also addresses normative constraints, such as human rights, and considers mechanisms of accountability.
Parts II-IV focus on the United Kingdom law and practice. It provides extensive coverage of the major UK terrorism legislation, namely: the Terrorism Act 2000; the Anti-Terrorism, Crime and Security Act 2001; the Prevention of Terrorism Act 2005; the Terrorism Act 2006; the Justice and Security (Northern Ireland) Act 2007; the Counter-Terrorism Act 2008; and the Terrorist Asset-Freezing etc. Act 2010. The themes comprise: investigatory and policing powers and interventions; the disclosure of Information, special criminal laws, special criminal processes, post-trial restraints and the penology of terrorism, executive regulation through control orders and immigration measures, terrorist funding and property, and protective security laws, structures, and regulations. The study encompasses wherever relevant the impact of European, international and transnational laws and practices, covering international transnational cooperation and extradition; key European Union law measures against terrorism; other international law measures against terrorist activities; and international human rights and terrorism.
Part V considers regional variations in Northern Ireland, with some reflections on the application of Scottish law, especially in the Lockerbie cases.
---
Ketersediaan
| | | | |
| --- | --- | --- | --- |
| 7508 | INT XIII Walker/2011 | Perpustakaan Komnas HAM | Tersedia |
Informasi Detil
Judul Seri

-

No. Panggil

INT XIII Walker/2011

Penerbit

Oxford University Press

:

Oxford, United Kingdom

.,

2011

Deskripsi Fisik

lxxiii, 553 p.; 26 x 18 cm.

Bahasa

English

ISBN/ISSN

978-0-19-956117-9

Klasifikasi

INT XIII

Tipe Isi

-
Versi lain/terkait
Tidak tersedia versi lain