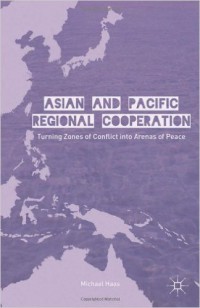 Book
Asian and Pacific Regional Cooperation: Turning Zones of Conflict into Arenas of Peace
---
Asia and the Pacific have been transformed from a bloody zone of conflict to an unparalled arena of peace over the past 50 years. The reason, as explained in this book, is that leaders of Asian and Pacific countries undertook concerted and creative diplomatic efforts to find ways to cooperate informally through international institutions. To explain how the transformation occurred, the book examines the cultural-historical-theoretical context, more than 100 institutions of regional cooperation, the disposition of almost 100 subregional conflicts, and diplomatic underpinnings at subregional and regional levels. The book also provides the first quantitative test of competing theories of regional integration by Karl Deutsch, Ernst Haas, and other prominent scholars in order to discover the empirical underpinnings of the extraordinary success story of regional cooperation in Asia and the Pacific.

Contents:
1. International and regional cooperation
2. The Asian way and the Pacific way
3. Waves of Asian regional cooperation
4. Waves of Pacific regional cooperation
5. Pivotal roles in regional cooperation
6. Creating arenas of peace
7. Successful security communities.

---
Ketersediaan
| | | | |
| --- | --- | --- | --- |
| 7498 | INT III Haas / 2013 | Perpustakaan Komnas HAM | Tersedia |
Informasi Detil
Judul Seri

-

No. Panggil

INT III Haas / 2013

Penerbit

Palgrave Macmillan

:

New York

.,

2013

Deskripsi Fisik

xxii, 200 pages : ill. ; 23 cm.

Bahasa

English

ISBN/ISSN

978-1-137-30439-1

Klasifikasi

INT III

Tipe Isi

-
| | |
| --- | --- |
| Tipe Media | - |
| Tipe Pembawa | - |
| Edisi | - |
| Subyek | |
| Info Detil Spesifik | - |
| Pernyataan Tanggungjawab | - |
Versi lain/terkait
Tidak tersedia versi lain