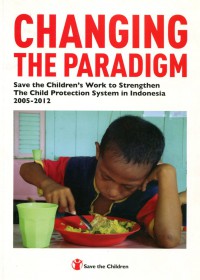 Book
Changing The Paradigm: Save The Children's Work to Strengthen The Child Protection System in Indonesia 2005 - 2012
---
Following the devastating Indian Ocean tsunami and earthquake that struck the province of Aceh in Indonesia in December 2004, Save the Children complemented its emergency response with the placement of two advisors in the Indonesian Ministry of Social Affairs (KEMENSOS) to support the Government in reviewing the effectiveness of the national child protection system, in both emergency and non-emergency contexts. Indonesia's child protection system was found to rely almost exclusively on residential care interventions and, although these institutions received the bulk of government funding for social services for vulnerable children, they were almost entirely unregulated. Furthermore, there was little awareness of the potential negative impact of institutionalization on children and considerable vested interests that drew children away from their families and into long-term residential care.

In 2005 Save the Children began, in collaboration with the Ministry of Social Affairs and other key stakeholders, a major process to understand better, evidence and reform the national child protection system, with a particular focus on changing the paradigm underpinning the system away from its overreliance on residential care and towards child and family centered interventions. To achieve this, the organization adopted a systems approach to child protection, seeking to strengthen the policy, legislative and organizational framework; and the mechanisms, human resources, skills and capacity required to deliver these services.

This report documents the work conducted over a period of 7 years and is focused on 5 key areas of change:

Evidence based advocacy through research, that included children who contributed directly to the changes initiated;
Policy and legal reforms, including the development of a framework to regulate the use of institutional care and ensure the provision of a range of family based alternative care options;
Capacity building and engagement of key duty bearers and stakeholders in the change process through a team of 'champions' that could drive the change process in all sectors;
A shift in human and financial resources towards child and family centered services, including supporting the development of social work professionals with the skills and mandates to work directly with children and families; and
the Establishment of good models of interventions that support family based care and protection.

Each section of the report is organized around key components of an effective child protection system and provides an overview of 'What was done and why', 'The approach taken' and 'Key findings and learning'. Case studies are provided throughout the report to illustrate the range of issues faced by children and their families, and some of the challenges in delivering more appropriate responses to them. This report documents what was done to support a better understanding of the reform process that began in 2005 and is continuing today in Indonesia, as well as to support organizational learning on a system building approach to child protection.
---
Ketersediaan
| | | | |
| --- | --- | --- | --- |
| 7598 | INA VII.30 Changing / 2013 | Perpustakaan Komnas HAM | Tersedia |
Informasi Detil
Judul Seri

-

No. Panggil

INA VII.30 Changing / 2013

Penerbit

Save the Children

:

Jakarta

.,

2013

Deskripsi Fisik

xi, 141 p. : ill. ; 30 cm.

Bahasa

English

ISBN/ISSN

978-979-15511-4-4

Klasifikasi

INA VII.30

Tipe Isi

-
| | |
| --- | --- |
| Tipe Media | - |
| Tipe Pembawa | - |
| Edisi | - |
| Subyek | |
| Info Detil Spesifik | - |
| Pernyataan Tanggungjawab | Save the Children |
Versi lain/terkait
Tidak tersedia versi lain