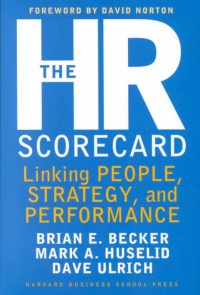 Book
The HR Scorecard: Linking People, Strategy, and Performance
---
The HR Scorecard argues that HR measurement systems must be based on a clear understanding of organizational strategy and the capabilities and behaviors of the workforce required to implement that strategy. Thus, an HR Scorecard is a mechanism for describing and measuring how people and people management systems create value in organizations, as well as communicating key organizational objectives to the workforce.
It is based on a strategy map – which is a visual depiction of "what causes what" in an organization, beginning with people and ending with shareholder or other stakeholder outcomes. The HR Scorecard is built around a series of examples and a process that helps managers to do this work in their own firms – designing an HR architecture that relentlessly emphasizes and reinforces the implementation of the firm's strategy.
The HR Scorecard has five key elements:
1. The first element is what we called Workforce Success. It asks: Has the workforce accomplished the key strategic objectives for the business?
2. The second element is we called Right HR Costs. It asks: Is our total investment in the workforce (not just the HR function) appropriate (not just minimized)?
3. The third element we describe as Right Types of HR Alignment. It asks: Are our HR practices aligned with the business strategy and differentiated across positions, where appropriate?
4. The fourth element is Right HR Practices. It asks: Have we designed and implemented world class HR management policies and practices throughout the business?
5. The fifth element is Right HR Professionals. It asks: Do our HR professionals have the skills they need to design and implement a world-class HR management system?

---
Ketersediaan
| | | | |
| --- | --- | --- | --- |
| 7382 | GEN 0.658.3 Becker/2001 | Perpustakaan Komnas HAM | Tersedia |
Informasi Detil
Judul Seri

-

No. Panggil

GEN 0.658.3 Becker/2001

Penerbit

Harvard Business Review Press

:

Boston, Massachusetts

.,

2001

Deskripsi Fisik

xiii, 235 p. : ill. ; 25 cm.

Bahasa

English

ISBN/ISSN

978-1-57581-136-5

Klasifikasi

GEN 0.658.3

Tipe Isi

-
| | |
| --- | --- |
| Tipe Media | - |
| Tipe Pembawa | - |
| Edisi | - |
| Subyek | |
| Info Detil Spesifik | - |
| Pernyataan Tanggungjawab | - |
Versi lain/terkait
Tidak tersedia versi lain