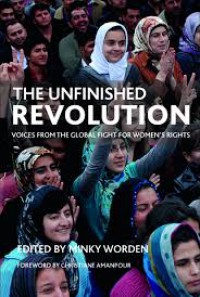 Book
The Unfinished Revolution: Voices From The Global Fight For Women's Rights
---
The Unfinished Revolution tells the story of the global struggle to secure basic rights for women and girls, including in the Middle East where the Arab Spring raised high hopes, but the political revolutions are so far insufficient to guarantee progress. Around the world, women and girls are trafficked into forced labor and sex slavery, trapped in conflict zones where rape is a weapon of war, prevented from attending school, and kept from making deeply personal choices in their private lives, such as whom and when to marry. In many countries, women are second-class citizens by law. In others, religion and traditions block freedoms such as the right to work, study or access health care. Even in the United States, women who are victims of sexual violence often do not see their attackers brought to justice.

More than 30 writers—Nobel Prize laureates, leading activists, top policymakers, and former victims—have contributed to this anthology. Drawing from their rich personal experiences, they tackle some of the toughest questions and offer bold new approaches to problems affecting hundreds of millions of women. This volume is indispensable reading, providing thoughtful analysis from a never-before assembled group of advocates. It shows that the fight for women's equality is far from over. As Leymah Gbowee, 2011 Nobel Peace Prize Laureate says, "Women are not free anywhere in this world until all women in the world are free."

Bibliography note: Includes bibliographical references and index.
---
Ketersediaan
| | | | |
| --- | --- | --- | --- |
| 7396 | INT VII.40 Unfinished/2012 | Perpustakaan Komnas HAM | Tersedia |
Informasi Detil
Judul Seri

-

No. Panggil

INT VII.40 Unfinished/2012

Penerbit

Seven Stories Press

:

New York

.,

2012

Deskripsi Fisik

xviii, 361 p. : ill. ; 21 cm.

Bahasa

English

ISBN/ISSN

978-1-60980-387-2

Klasifikasi

INT VII.40

Tipe Isi

-
| | |
| --- | --- |
| Tipe Media | - |
| Tipe Pembawa | - |
| Edisi | - |
| Subyek | |
| Info Detil Spesifik | - |
| Pernyataan Tanggungjawab | - |
Versi lain/terkait
Tidak tersedia versi lain