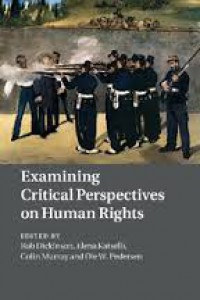 Book
Examining Critical Perspectives on Human Rights
---
Examining Critical Perspectives on Human Rights sets out a practical and theoretical overview of the future of human rights within the United Kingdom and beyond. A number of internationally renowned scholars respond to David Kennedy's contribution 'The International Human Rights Movement: Still Part of the Problem?' from a range of different perspectives. With its combination of theory and practice of international and domestic human rights at this key juncture in the human rights project, it is relevant to all scholars and practitioners with an interest in human rights.
1. Critical examination of the role of human rights will appeal to human rights scholars in both legal and other social science disciplines
2. Includes contributions from both the USA and the UK
3. Draws on theoretical and international developments in the human rights debate, making this of interest to academics, lawyers and policy makers with interests in the field of human rights

Table of Contents

Part I. Introduction:
1. Re-examining critical perspectives on human rights Ole W. Pedersen
2. The international human rights movement: still part of the problem? David Kennedy
Part II. Domestic Human Rights Perspectives:
3. The ongoing idolatry of the Human Rights Act Keith Ewing
4. If you cannot change the rules of the game, adapt to them: United Kingdom responses to the restrictions set by Article 3 ECHR on 'national security' deportations David Bonner
5. The right to security - securing rights or securitizing rights? Liora Lazarus
6. Lawfare unbounded? Human rights and civil liberties as weapons of area denial Colin Murray
Part III. International Human Rights Law Perspectives:
7. The rule of law and the role of human rights when peace and security are under attack Elena Katselli
8. The problematic authority of international human rights law Steven Wheatley
9. Universal human rights: a challenge too far Rob Dickinson
Part IV. Theoretical Perspectives on Human Rights:
10. Human rights and the mass media Eric Heinze
11. Human rights activism, expertise and academic inquiry: beyond legitimation v. emancipation - a self-critical reflection Christine Bell
12. Human rights, 'lawfare' and American exceptionalism Richard Mullender.

Bibliography note: Includes bibliographical references and index.
---
Ketersediaan
| | | | |
| --- | --- | --- | --- |
| 9671 | INT IV.00 Examining/2012 | Perpustakaan Komnas HAM | Tersedia |
Informasi Detil
Judul Seri

-

No. Panggil

INT IV.00 Examining/2012

Penerbit

Cambridge University Press

:

New York

.,

2012

Deskripsi Fisik

xi, 292 p. ; 24 cm.

Bahasa

English

ISBN/ISSN

978-1-107-00693-5

Klasifikasi

INT IV.00

Tipe Isi

text
| | |
| --- | --- |
| Tipe Media | - |
| Tipe Pembawa | - |
| Edisi | - |
| Subyek | |
| Info Detil Spesifik | - |
| Pernyataan Tanggungjawab | - |
Versi lain/terkait
Tidak tersedia versi lain