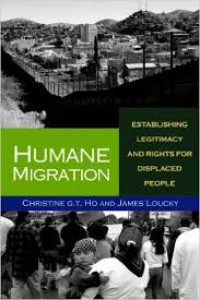 Book
Humane Migration: Establishing Legitimacy and Rights for Displaced People
---
Comprehensive and passionate exploration of the debates surrounding the politics, economics and ethics of international migration * Offers suggestions for humane and rational immigration policies The popular discourse on immigration in North America and Western Europe is usually framed in terms of violations to national law, fueled by fear and propped up by the myths of nationhood. The rhetoric maintains that immigrants as individuals threaten jobs, the local economy and the cultural identity of a country. But these views fail to consider the ironic reality: that the developed world, which tries so emphatically to keep poor people out, itself produces the systemic economic conditions that foster migration. Humane Migration provides a fresh look at the debate on international migration in general and immigration to the United States, Europe and Canada in particular. It explains clearly why groups migrate and the obstacles they face during their journeys and after arriving at their destinations. Arguing that migration is a human right, the authors call for better policies that recognize these rights and the many benefits that migrants provide to their new communities. This book is an essential text for policy makers, students and activists who seek justice for the world's vulnerable populations.

CONTENTS
1. Seeing the Humanity of Migration in the Migration of Humanity.
2. Globalization and Why Migration Happens.
3. The Global Immigration Panic.
4. This Land Is My Land, This Land Is Not Your Land.
5. Criminalizing Migrants, Containing Migration.
6. Learning From Others, Living With Others.
7. E Pluribus Unum.
8. Right to Move, Right to Be.
9. No Place Like Home.

Bibliography note: Includes bibliographical references and index.
---
Ketersediaan
| | | | |
| --- | --- | --- | --- |
| 7386 | INT XIV.60 Ho/2012 | Perpustakaan Komnas HAM | Tersedia |
Informasi Detil
Judul Seri

-

No. Panggil

INT XIV.60 Ho/2012

Penerbit

Kumarian Press

:

Sterling, Virginia

.,

2012

Deskripsi Fisik

xii, 215 p. ; 24 cm.

Bahasa

English

ISBN/ISSN

978-1-56549-320-9

Klasifikasi

INT XIV.60

Tipe Isi

-
| | |
| --- | --- |
| Tipe Media | - |
| Tipe Pembawa | - |
| Edisi | - |
| Subyek | |
| Info Detil Spesifik | - |
| Pernyataan Tanggungjawab | - |
Versi lain/terkait
Tidak tersedia versi lain