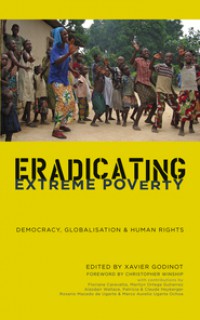 Book
Eradicating Extreme Poverty: Democracy, Globalisation and Human Rights
---
The failure of attempts to tackle global poverty have bred cynicism and 'compassion fatigue'. Eradicating Extreme Poverty provides an urgently needed fresh approach which will re-energise action on this issue.

Rejecting traditional 'top-down' approaches, Xavier Godinot and his colleagues start from the experiences, capabilities and strategies of the poor themselves. They argue that the first step is a close connection with poor communities followed by a commitment to take action alongside them. Life-stories from Burkina Faso, France, Peru and the Philippines are used to show that the poor must be involved in their own liberation.

After decades of failed development policies, this book outlines a radical new approach which will enliven debate amongst policy-makers, researchers, students and academics.

Contents: Machine generated contents note: pt. ONE Introduction: Resisting Extreme Poverty Every Day / Xavier Godinot -- 1.The Child who Walked with Death: The Story of Paul in Burkina Faso / Claude Heyberger -- 2.Gold Under the Bridge: The Story of Mercedita and her Family in the Philippines / Alasdair Wallace -- 3.Resist to Exist: The Story of Farid, Celine and Karim in France and Algeria / Floriane Caravatta -- 4.Staying Together Through Thick and Thin: The Story of the Rojas Paucar Family in Peru / Marco Aurelio Ugarte Ochoa -- pt. TWO Introduction: Human Rights and Responsibilities: The Foundations for Living Together / Xavier Godinot -- 5.Basic Ties and Fundamental Rights / Marco Aurelio Ugarte Ochoa -- 6.Democracy, Globalisation and Extreme Poverty / Xavier Godinot.
---
Ketersediaan
| | | | |
| --- | --- | --- | --- |
| 7385 | INT V.29 Eradicating / 2012 | Perpustakaan Komnas HAM | Tersedia |
Informasi Detil
Judul Seri

-

No. Panggil

INT V.29 Eradicating / 2012

Penerbit

Pluto Press

:

London

.,

2012

Deskripsi Fisik

xxiii, 256 p. ; 22 cm.

Bahasa

English

ISBN/ISSN

978-0-7453-3198-0

Klasifikasi

INT V.29

Tipe Isi

-
| | |
| --- | --- |
| Tipe Media | - |
| Tipe Pembawa | - |
| Edisi | - |
| Subyek | |
| Info Detil Spesifik | - |
| Pernyataan Tanggungjawab | The International Movement ATD Fourth World |
Versi lain/terkait
Tidak tersedia versi lain