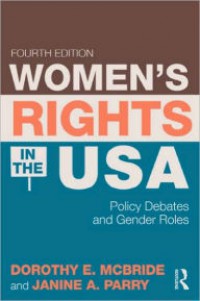 Book
Women's Rights in the USA: Policy Debates and Gender Roles
---
Exploring the latest controversies on reproductive rights, offering new material on lesbian issues, and assessing the special concerns of black women, this volume explores in detail women's roles, rights, and expectations, focusing not only on traditional family and societal issues, but also on feminist positions and ongoing arguments about sexuality, abortion, equality in the workplace, and other concerns that have generated heated debates in our social organizations and legislatures. The scope of the Second Edition is wide, encompassing historical background information on key issues, reviews of legal battles and rulings, surveys of economic realities, how to acquire and exercise political power, arguments for equal pay for equal work, and much more. This readable and information-filled overview of women's legal, social, and economic status in contemporary society is a valuable reference for librarians, students, and general readers.

Table of Contents
1. Introduction; 2. The U.S. Constitution; 3. Political Resources; 4. Reproduction; 5. Education; 6. Family; 7. Work and Pay; 8. Work and Family; 9. Sexuality: Regulation; 10. Sexuality: Intimidation; 11. Economic Status

Bibliography note: Includes bibliographical references and index.
---
Ketersediaan
| | | | |
| --- | --- | --- | --- |
| 7602 | INT VII.40 McBride / 2011 | Perpustakaan Komnas HAM | Tersedia |
Informasi Detil
Judul Seri

Politics / Women's Studies

No. Panggil

INT VII.40 McBride / 2011

Penerbit

Routledge

:

New York

.,

2011

Deskripsi Fisik

xxiii, 366 p. : ill. ; 23 cm.

Bahasa

English

ISBN/ISSN

978-0-415-80452-3

Klasifikasi

INT VII.40

Tipe Isi

-
| | |
| --- | --- |
| Tipe Media | - |
| Tipe Pembawa | - |
| Edisi | 4th edition |
| Subyek | |
| Info Detil Spesifik | - |
| Pernyataan Tanggungjawab | - |
Versi lain/terkait
Tidak tersedia versi lain