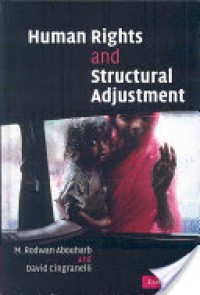 Book
Human Rights and Structural Adjustment
---
'Structural adjustment' has been a central part of the development strategy for the 'third world'. Loans made by the World Bank and the IMF have been conditional on developing countries pursuing rapid economic liberalization programmes as it was believed this would strengthen their economies in the long run. M. Rodwan Abouharb and David Cingranelli argue that, conversely, structural adjustment agreements usually cause increased hardship for the poor, greater civil conflict, and more repression of human rights, therefore resulting in a lower rate of economic development. Greater exposure to structural adjustment has increased the prevalence of anti-government protests, riots and rebellion. It has led to less respect for economic and social rights, physical integrity rights, and worker rights, but more respect for democratic rights. Based on these findings, the authors recommend a human rights-based approach to economic development.

1. Strong critique of World Bank and IMF policies on the Third World
2. Links human rights with economic development
3. Will appeal to students of development studies and human rights as well as political economy

Bibliography note: Includes bibliographical references and index.
---
Ketersediaan
| | | | |
| --- | --- | --- | --- |
| 7601 | INT V.500 Abouharb / 2007 | Perpustakaan Komnas HAM | Tersedia |
Informasi Detil
Judul Seri

-

No. Panggil

INT V.500 Abouharb / 2007

Penerbit

Cambridge University Press

:

Cambridge

.,

2007

Deskripsi Fisik

xiv, 276 p. : ill. ; 23 cm.

Bahasa

English

ISBN/ISSN

978-0-521-67671-7

Klasifikasi

INT V.500

Tipe Isi

-
| | |
| --- | --- |
| Tipe Media | - |
| Tipe Pembawa | - |
| Edisi | - |
| Subyek | |
| Info Detil Spesifik | - |
| Pernyataan Tanggungjawab | - |
Versi lain/terkait
Tidak tersedia versi lain