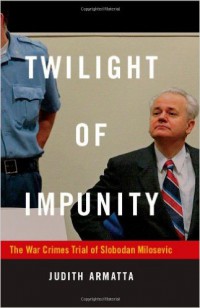 Book
Twilight of Impunity: The War Crimes Trial of Slobodan Milosevic
---
An eyewitness account of the first major international war-crimes tribunal since the Nuremberg trials, Twilight of Impunity is a gripping guide to the prosecution of Slobodan Milosevic for war crimes, crimes against humanity, and genocide. The historic trial of the "Butcher of the Balkans" began in 2002 and ended abruptly with Milosevic's death in 2006. Judith Armatta, a lawyer who spent three years in the former Yugoslavia during Milosevic's reign, had a front-row seat at the trial. In Twilight of Impunity she brings the dramatic proceedings to life, explains complex legal issues, and assesses the trial's implications for victims of the conflicts in the Balkans during the 1990s and international justice more broadly. Armatta acknowledges the trial's flaws, particularly Milosevic's grandstanding and attacks on the institutional legitimacy of the International Criminal Tribunal. Yet she argues that the trial provided an indispensable legal and historical narrative of events in the former Yugoslavia and a valuable forum where victims could tell their stories and seek justice. It addressed crucial legal issues, such as the responsibility of commanders for crimes committed by subordinates, and helped to create a framework for conceptualizing and organizing other large-scale international criminal tribunals. The prosecution of Slobodan Milosevic in The Hague was an important step toward ending impunity for leaders who perpetrate egregious crimes against humanity.

Contents: Opening statements -- Milosevic was warned -- The lead-up to war -- War in Kosova -- Massacre and cover-up -- Milosevic's rise to power -- The exercise of (de facto) power -- War in Croatia and attempts at peace -- War comes to Bosnia -- Concentration camps and safe areas -- Genocide -- Interregnum -- The world according to Milosevic -- Milosevic's loyalists -- Croatia and Bosnia : a case of self-defense? -- Conclusions and recommendations.

Bibliography note: Includes bibliographical references (p. [517]-522) and index.
---
Ketersediaan
Tidak ada salinan data
Informasi Detil
Judul Seri

-

No. Panggil

INT XII.50 Armatta / 2010

Penerbit

Duke University Press

:

Durham

.,

2010

Deskripsi Fisik

xxx, 545 p. : ill. ; 24 cm.

Bahasa

English

ISBN/ISSN

978-0-8223-4746-0

Klasifikasi

INT XII.50

Tipe Isi

-
| | |
| --- | --- |
| Tipe Media | - |
| Tipe Pembawa | - |
| Edisi | - |
| Subyek | |
| Info Detil Spesifik | - |
| Pernyataan Tanggungjawab | - |
Versi lain/terkait
Tidak tersedia versi lain