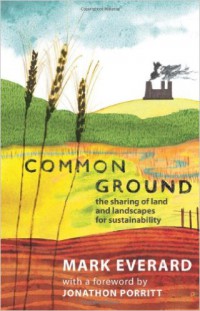 Book
Common Ground: The Sharing of Land and Landscapes for Sustainability
---
Common Ground explores the shifting relationship between human society and the landscapes that bear it. Examining the changing understandings of the natural world and its management and exploitation, environmental activist Mark Everard presents solutions in the nature of ecosystem services.

Notwithstanding our total dependence on the Earth's natural resources, the relationship between humanity and the land has shifted significantly and frequently throughout our tenure, brief as it is relative to the evolution of planetary life. Appropriating increasing proportions of nature's resources to meet our shifting and growing demands, we have been degrading the quality and extent of ecosystems, nearly destroying their capacities to meet the needs of a burgeoning population.

The book offers a fresh and vital whole-system approach to the key under-pinning the issue of sustainability. Everard looks ahead to what is required to live sustainably, respecting the central role of landscapes in supporting human wellbeing into the long-term future.
---
Ketersediaan
| | | | |
| --- | --- | --- | --- |
| 7570 | INT V.50 Everard / 2011 | Perpustakaan Komnas HAM | Sedang Dipinjam (Jatuh tempo pada2022-08-23) |
Informasi Detil
Judul Seri

-

No. Panggil

INT V.50 Everard / 2011

Penerbit

Zed Books

:

London

.,

2011

Deskripsi Fisik

x, 214 p. : ill. ; 22 cm.

Bahasa

English

ISBN/ISSN

978-1-84813-962-6

Klasifikasi

INT V.50

Tipe Isi

-
| | |
| --- | --- |
| Tipe Media | - |
| Tipe Pembawa | - |
| Edisi | - |
| Subyek | |
| Info Detil Spesifik | - |
| Pernyataan Tanggungjawab | - |
Versi lain/terkait
Tidak tersedia versi lain