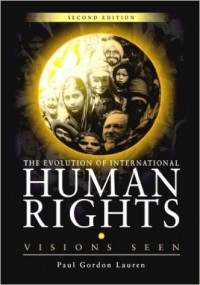 Book
The Evolution of International Human Rights: Visions Seen
---
This widely acclaimed and highly regarded book, embraced by students, scholars, policymakers, and activists, now appears in a new edition. Using the theme of visions seen by those who dreamed of what might be, Lauren explores the dramatic transformation of a world patterned by centuries of traditional structures of authority, gender abuse, racial prejudice, class divisions and slavery, colonial empires, and claims of national sovereignty into a global community that now boldly proclaims that the way governments treat their own people is a matter of international concern—and sets the goal of human rights "for all peoples and all nations."

Lauren makes clear the truly universal nature of this movement by drawing into his discussion people and cultures in every part of the globe. In this regard, the book offers particularly remarkable revelations and insights when analyzing the impact of wars and revolutions, non-Western nations, struggles against sexism and racism, liberation movements and decolonization, nongovernmental organizations, and the courage and determination of countless numbers of common men and women who have contributed to the evolution of international human rights.

This new edition incorporates the most recent developments of the International Criminal Court, the arrest of Augusto Pinochet and the trial of Slobodan Milosevic, technology and the Internet, the impact of NGOs like Amnesty International and Human Rights Watch, globalization, terrorism, and the aftermath of the September 11 terrorist attacks.

Bibliography note: Includes notes to pages, bibliographical references, and index.
---
Ketersediaan
| | | | |
| --- | --- | --- | --- |
| 7419 | GEN II Lauren / 2003 | Perpustakaan Komnas HAM | Tersedia |
Informasi Detil
Judul Seri

Pennsylvania Studies in Human Rights

No. Panggil

GEN II Lauren / 2003

Penerbit

University of Pennsylvania Press

:

Philadelphia

.,

2003

Deskripsi Fisik

xi, 397 p. : ill. ; 26 cm.

Bahasa

English

ISBN/ISSN

978-0-8122-1854-1

Klasifikasi

GEN II

Tipe Isi

-
| | |
| --- | --- |
| Tipe Media | - |
| Tipe Pembawa | - |
| Edisi | 2nd Edition |
| Subyek | |
| Info Detil Spesifik | - |
| Pernyataan Tanggungjawab | - |
Versi lain/terkait
Tidak tersedia versi lain