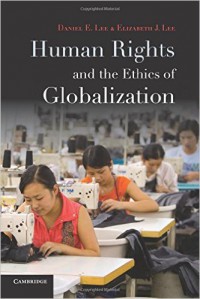 Book
Human Rights and the Ethics of Globalization
---
Human Rights and the Ethics of Globalization provides a balanced, thoughtful discussion of the globalization of the economy and the ethical considerations inherent in the many changes it has prompted. The book's introduction maps out the philosophical foundations for constructing an ethic of globalization, taking into account both traditional and contemporary sources. These ideals are applied to four specific test cases: the ethics of investing in China, the case study of the Firestone company's presence in Liberia, free-trade and fair-trade issues pertaining to the coffee trade with Ethiopia, and the use low-wage factories in Mexico to serve the U.S. market. The book concludes with a comprehensive discussion of how to enforce global compliance with basic human rights standards, with particular attention to stopping abuses by multinational corporations through litigation under the Alien Tort Claims Act.

Contents: Machine generated contents note: Prologue; Part I. Philosophical Foundations: 1. Defining human rights in a coherent manner; 2. Near neighbors, distant neighbors and the ethics of globalization; 3. Ethical guidelines for business in an age of globalization; Part II. Practical Applications: 4. Human rights and the ethics of investment in China; 5. Liberia and Firestone: a case study; 6. Free trade, fair trade, and coffee farmers in Ethiopia; 7. Maquiladoras: exploitation, economic opportunity or both?; Part III. The Challenge of Enforcement: 8. Possibilities and problems; 9. Human rights, U.S. multinational corporations and the Alien Tort Claims Act; Epilogue.

Bibliography note: Includes bibliographical references (p. 253-257) and index.
---
Ketersediaan
| | | | |
| --- | --- | --- | --- |
| 7573 | INT V.600.01 Lee / 2010 | Perpustakaan Komnas HAM | Tersedia |
Informasi Detil
Judul Seri

-

No. Panggil

INT V.600.01 Lee / 2010

Penerbit

Cambridge University Press

:

Cambridge

.,

2010

Deskripsi Fisik

xvi, 264 p. ; 23 cm.

Bahasa

English

ISBN/ISSN

978-0-521-14799-6

Klasifikasi

INT V.600.01

Tipe Isi

-
| | |
| --- | --- |
| Tipe Media | - |
| Tipe Pembawa | - |
| Edisi | - |
| Subyek | |
| Info Detil Spesifik | - |
| Pernyataan Tanggungjawab | - |
Versi lain/terkait
Tidak tersedia versi lain