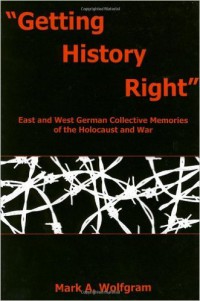 Book
Getting History Right: East and West German Collective Memories of the Holocaust and War
---
How do individuals, societies, and nations deal with their difficult pasts? "Getting History Right" examines this question in a comparative context by looking at an authoritarian East Germany and a pluralistic, democratic West Germany. Eschewing a narrow focus on elites, this work draws extensively on societal level discussions of the past in popular culture, such as film, television, radio, and newspapers. It examines how societal level discussions of the past shaped individual perceptions and interpretations of the past; and how individual perceptions and struggles over the meaning of the past shaped societal level discussions. These struggles over meaning and "getting history right" are not only shaped by political power, but are also a source of symbolic power.

To understand political life, scholars must embrace not only material political power, but also the symbolic and cultural roots of power. The research presented here makes extensive use of public opinion data, cinema attendance, and television viewer data, as well as other sources, to look at the multiple meanings that East and West Germans assigned to the Holocaust and World War II across time. Rather than culture merely being an extension of political power, this work argues that culture and the boundaries of the cultural matrix shape the use of political power by different social actors. Getting history right is not only a reflection of political power; it is a source of power itself.

Bibliography note: Includes bibliographical references, filmography and index.
---
Ketersediaan
| | | | |
| --- | --- | --- | --- |
| 7406 | INT X.90.02 Wolfgram / 2011 | Perpustakaan Komnas HAM | Tersedia |
Informasi Detil
Judul Seri

-

No. Panggil

INT X.90.02 Wolfgram / 2011

Penerbit

Bucknell University Press

:

Maryland, USA

.,

2011

Deskripsi Fisik

293 p. ; 24 cm.

Bahasa

English

ISBN/ISSN

978-1-61148-006-1

Klasifikasi

INT X.90.02

Tipe Isi

-
| | |
| --- | --- |
| Tipe Media | - |
| Tipe Pembawa | - |
| Edisi | - |
| Subyek | |
| Info Detil Spesifik | - |
| Pernyataan Tanggungjawab | - |
Versi lain/terkait
Tidak tersedia versi lain