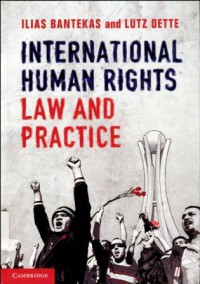 Book
International Human Rights Law and Practice (7218)
---
Human rights law is a complex but compelling subject that fascinates students but also confuses them. This innovative textbook explores human rights law from a theoretical and practical perspective. Case studies and interviews with specialist practitioners, NGO activists and policy-makers show how theory is applied in real life. The up-to-date coverage includes introductions to important emerging fields such as globalisation, poverty and advocacy. Student learning is supported by questions to stimulate seminar discussion and further reading sections that encourage independent study. The authors' combined expertise, engaging writing style and ability to clarify not simplify ensures that this important new book will become required reading for all students of human rights law.

Innovative approach mixing academic rigour and practical emphasis ensures students' full understanding of the law
Integrated interviews with human rights professionals and practitioners gives subject immediacy and relevance
Engaging writing style offers clarification on (not simplification of) complex legal principles.
---
Ketersediaan
Tidak ada salinan data
Informasi Detil
Judul Seri

-

No. Panggil

INT I.20 Bantekas/2013

Penerbit

Cambridge University Press

:

New York

.,

2013

Deskripsi Fisik

xlvii; 731 hlm; 25 cm x 18 cm

Bahasa

English

ISBN/ISSN

978-0-521-19642-0

Klasifikasi

INT I.20

Tipe Isi

-
| | |
| --- | --- |
| Tipe Media | - |
| Tipe Pembawa | - |
| Edisi | - |
| Subyek | |
| Info Detil Spesifik | - |
| Pernyataan Tanggungjawab | - |
Versi lain/terkait
Tidak tersedia versi lain