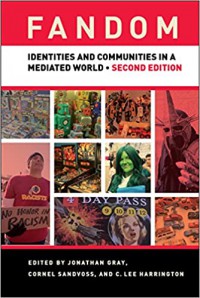 Book
Fandom: Identities and Communities in A Mediated World
---
We are all fans. Whether we follow our favorite celebrities on Twitter, attend fan conventions such as Comic Con, or simply wait with bated breath for the next episode of our favorite television drama—each of us is a fan.

Recognizing that fandom is not unusual, but rather a universal subculture, the contributions in this book demonstrate that understanding fans--whether of toys, TV shows, celebrities, comics, music, film, or politicians--is vital to an understanding of media audiences, use, engagement, and participatory culture in a digital age.

Including eighteen new, original essays covering topics such as activism directed at racism in sports fandom, fan/producer interactions at Comic Con, the impact of new technologies on fandom, and the politics and legality of fanfic, this wide-ranging collection provides diverse approaches to fandom for anyone seeking to understand modern life in our increasingly mediated, globalized and binge-watching world.
---
Ketersediaan
| | | | |
| --- | --- | --- | --- |
| 9316 | GEN 0.302 Fan/2017 | Perpustakaan Komnas HAM | Sedang Dipinjam (Jatuh tempo pada2022-02-03) |
| E00130 | GEN 0.302 Fan/2017 | Perpustakaan Komnas HAM | Tersedia |
Informasi Detil
Judul Seri

-

No. Panggil

GEN 0.302 Fan/2017

Penerbit

New York University Press

:

New York

.,

2017

Deskripsi Fisik

vii, 437 pages; 21 x 14 cm. ; 3,8 mb.

Bahasa

English

ISBN/ISSN

9781479812769

Klasifikasi

GEN 0.302

Tipe Isi

text
| | |
| --- | --- |
| Tipe Media | unmediated |
| Tipe Pembawa | volume |
| Edisi | Second Edition |
| Subyek | |
| Info Detil Spesifik | Tersedia E-book / PDF |
| Pernyataan Tanggungjawab | - |
Versi lain/terkait
Tidak tersedia versi lain