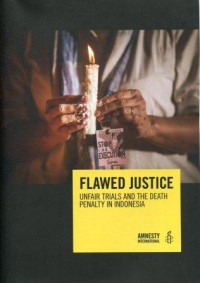 Book
Flawed Justice: Unfair Trials and The Death Penalty in Indonesia
---
Despite strong protests from local and international human rights organisations, the new Indonesia administration under President Joko Widodo has executed 14 people, including Indonesian and foreign nationals, in 2015. All of them had been convicted of drug trafficking. In other occasions President Widodo also stated publicity that the government would deny any application for clemency made by people sentenced to death for drug-related crimes.

This report which builds on Amnesty International's past work over three decades documenting the use of death penalty in Indonesia, includes research carried out during a March 2015 visit to the country. The report highlights 12 individual cases of death row prisoners, out of a total of 131 people on death row, which point to systemic problems in Indonesia's administration of justice that resulted in violations of international human rights law and standards.

Amnesty International opposes the death penalty in all cases and under any circumstances, regardless of the nature of the crime, the guilt, innocence or other characteristics of the offender, or the method used by the state to carry out the execution. The organization considers the death penalty a violation of the right to life as proclaimed in the Universal Declaration of Human Rights and the ultimate cruel, inhuman and degrading punishment.
---
Ketersediaan
| | | | |
| --- | --- | --- | --- |
| 8745 | INA IV.101 Falwed/2015 | Perpustakaan Komnas HAM | Tersedia |
Informasi Detil
Judul Seri

-

No. Panggil

INA IV.101 Flawed/2015

Penerbit

Amnesty International

:

London

.,

2015

Deskripsi Fisik

71 pages; 29 x 21 cm; illustrated.

Bahasa

English

ISBN/ISSN

-

Klasifikasi

INA IV.101

Tipe Isi

text
| | |
| --- | --- |
| Tipe Media | unmediated |
| Tipe Pembawa | volume |
| Edisi | - |
| Subyek | |
| Info Detil Spesifik | - |
| Pernyataan Tanggungjawab | Amnesty International |
Versi lain/terkait
Tidak tersedia versi lain