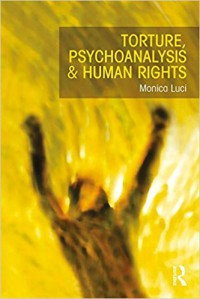 Book
Torture, Psychoanalysis and Human Rights
---
Torture, Psychoanalysis and Human Rights contributes to the development of that field of study called 'psycho-social' that is presently more and more committed to providing understanding of social phenomena, making use of the explicative perspective of psychoanalysis. The book seeks to develop a concise and integrated framework of understanding of torture as a socio-political phenomenon based on psychoanalytic thinking, through which different dimensions of the subject of study become more comprehensible.

Monica Luci argues that torture performs a covert emotional function in society. In order to identify what this function might be, a profile of 'torturous societies' and the main psychological dynamics of social actors involved – torturers, victims, and bystanders – are drawn from literature. Accordingly, a wide-ranging description of the phenomenology of torture is provided, detecting an inclusive and recurring pattern of key elements. Relying on psychoanalytic concepts derived from different theoretical traditions, including British object relations theories, American relational psychoanalysis and analytical psychology, the study provides an advanced line of conceptual research, shaping a model, whose aim is tograsp the deep meaning of key intrapsychic, interpersonal and group dynamics involved in torture.

Once a sufficiently coherent understanding has been reached, Luci proposes using it as a groundwork tool in the human rights field to re-think the best strategies of prevention and recovery from post-torture psychological and social suffering. The book initiates a dialogue between psychoanalysis and human rights, showing that the proposed psychoanalytic understanding is a viable conceptualisation for expanding thinking of crucial issues regarding torture, which might be relevant to human rights and legal doctrine, such as the responsibility of perpetrators, the reparation of victims and the question of 'truth'.

Torture, Psychoanalysis and Human Rights is the first book to build a psychoanalytic theory of torture from which psychological, social and legal reflections, as well as practical aspects of treatment, can be mutually derived and understood. It will appeal to psychoanalysts, psychoanalytic psychotherapists and Jungians, as well as scholars of politics, social work and justice, and human rights and postgraduate students studying across these fields.
---
Ketersediaan
| | | | |
| --- | --- | --- | --- |
| 8663 | INT IV.121 Luci/2017 | Perpustakaan Komnas HAM | Tersedia |
Informasi Detil
Judul Seri

-

No. Panggil

INT IV.121 Luci/2017

Penerbit

Routledge Taylor & Francis Group

:

London

.,

2017

Deskripsi Fisik

xviii, 260 pages; 24 x 16 cm.

Bahasa

English

ISBN/ISSN

9781138908604

Klasifikasi

INT IV.121

Tipe Isi

text
| | |
| --- | --- |
| Tipe Media | unmediated |
| Tipe Pembawa | volume |
| Edisi | - |
| Subyek | |
| Info Detil Spesifik | - |
| Pernyataan Tanggungjawab | Monica Luci |
Versi lain/terkait
Tidak tersedia versi lain