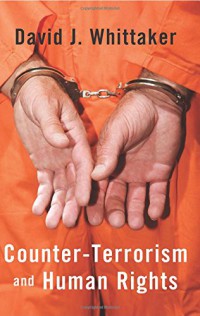 Book
Counter-Terrorism and Human Rights
---
Terrorism is one of the great threats to our globalised society, a phenomenon that threatens the security of us all. Constantly shifting its shape and emerging in unexpected new forms, it demands urgent, collective action to counter and contain it. But what is the price for such protection in terms of human rights and should we be prepared to pay it?
From the emergence of terrorist training camps to the controversy over Guantanamo Bay and the fierce debates surrounding new anti-terrorism laws, global responses to terrorism affect us all. In this book, David J. Whittaker explores the realities behind the attention-grabbing headlines by examining counter-terrorism principles, legislation and operational tactics. He does so with particular reference to Europe and the United States – without neglecting Africa and South East Asia – to provide a balanced and engaging introduction to the subject.
If terrorist activism is in some sense a 'raw message' from those who are neither heard nor understand, then we have to move from the blanket generality of a 'War on Terror' to an analysis of the specifics of terrorism and the coordination of an effective response. And we must be alive, the book concludes, to possible lines of terrorism in the future.
David J. Whittaker is a retired university lecturer and prolific author. His previous books include The Terrorism Reader (2001) and Terrorism: Understanding the Global Threat (2002).
---
Ketersediaan
| | | | |
| --- | --- | --- | --- |
| 7449 | INT XIII Whittaker/2009 | Perpustakaan Komnas HAM | Tersedia |
Informasi Detil
Judul Seri

-

No. Panggil

INT XIII Whittaker/2009

Penerbit

Longman

:

Harlow, England

.,

2009

Deskripsi Fisik

vii, 195 p.; 23 x 15 cm.

Bahasa

English

ISBN/ISSN

978-1-4058-9980-2

Klasifikasi

INT XIII

Tipe Isi

-
Versi lain/terkait
Tidak tersedia versi lain