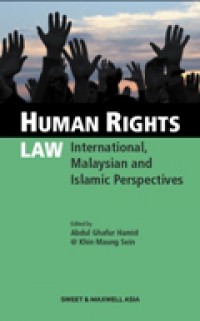 Book
Human Rights Law: International, Malaysia and Islamic Perspectives
---
"Human rights and fundamental freedoms are the birthright of all human beings; their protection and promotion is the first responsibility of Governments." World Conference on Human Rights, 1993

As the world becomes more and more a global village, where what happens to individuals in one country often impacts on those in other countries, human rights are at the forefront of concerns not only for Governments and authorities, but also for private corporations and the man on the street.

Human Rights Law: International, Malaysian and Islamic Perspectives is a unique, first-of-its-kind work, presented from three distinct perspectives. It is intended to present human rights law in a clear and accessible fashion, addressing key questions relevant to the subject.

Consisting of 24 chapters, grouped under three parts, the work begins with an exploration of the nature, scope and effectiveness of the international legal framework for human rights (Part I – Human Rights Law: The International Framework). This is followed by an analysis of the Malaysian position in relation to the application of international human rights law and contemporary human rights issues in Malaysia (Part II – Malaysia and Human Rights: Traditions versus Universality). Finally, the work examines human rights from the Islamic perspective, elaborating the position of Shari'ah (Islamic law) in respect of human rights (Part III – Human Rights: Islamic Perspective).

Useful both as a coherent exposition of human rights law, as well as a collection of self-contained papers reflecting the distinct perspectives of eighteen distinguished scholars, this work constitutes a rich overview of both theory and practice in relation to respect for human rights, and is a valuable resource to all those interested in exploring and studying human rights law.



---
Ketersediaan
Tidak ada salinan data
Informasi Detil
Judul Seri

-

No. Panggil

INT I.20 Human / 2012

Penerbit

Sweet & Maxwell Asia

:

Selangor, Malaysia

.,

2012

Deskripsi Fisik

xl, 472 p. ; 25 cm.

Bahasa

English

ISBN/ISSN

978-967-5040-87-0

Klasifikasi

INT I.20

Tipe Isi

-
| | |
| --- | --- |
| Tipe Media | - |
| Tipe Pembawa | - |
| Edisi | - |
| Subyek | |
| Info Detil Spesifik | - |
| Pernyataan Tanggungjawab | - |
Versi lain/terkait
Tidak tersedia versi lain